One of the reasons outsourced payroll processing is so popular is its relatively low cost. For a few dollars per paycheck, you can get all the time savings and accuracy benefits that are part and parcel of payroll services.
Payroll services cost is usually assessed as a charge per paycheck issued. The price can range from $2 to $5 per paycheck, depending on what services you add.
In addition, you can receive additional charges for making changes, like adding and deleting employees or changing pay rates. If your business has high turnover be sure to factor those costs in. Other firms may charge extra for year-end forms like the W-2s you're required to send, or for setting up direct deposit.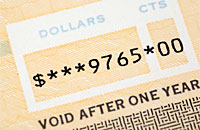 At these rates, a company with 50 employees and two paychecks per month could wind up paying $500 per month for a comprehensive payroll service. This may seem expensive at first, but when you consider the hours of staff time you save by eliminating the check runs, tax preparation, and other tedious administrative work, you'll find that a payroll service pays for itself.
You may be able to get a small discount on your monthly bill by signing a long-term contract, but we don't recommend it, at least not for the first year. Once you get through the first year with a provider and you're satisfied with their service, you can go back and consider signing up for the longer term to get a price break.
When it comes to payroll services costs it's worth investigating volume discounts: as the total number of employees on the payroll increases, the price per check will drop. If you're expecting to grow your business over the next few years, check with each provider you interview to find out what levels you'd have to hit to get a discount.
Another popular discount you'll encounter is a reduced fee for the first 3 or 6 months. While saving a little money is nice, don't let that temporary discount have too much impact on your decision making.
To get the best payroll services cost, make sure you get price quotes from at least 3 or 4 providers. Since there are so many different fees and charges that can be involved, the best way to get prices that you can compare accurately is to give them each a complete breakdown of the services you'll need, and ask for a written quote on how much their service would cost over the course of a year.
Ready to start talking to payroll providers? Fill out one simple form and we can connect you to qualified payroll service providers who are looking for your business.